Mission
Curlew Research enables better Health & Life Science research through our expertise in informatics & strategy development including collaboration, externalisation, data sharing and integration across the complete workflow.
Curlew Research uses its broad experience of the Health and Life Science (H&LS) environment to add immediate value to many areas of the H&LS workflow.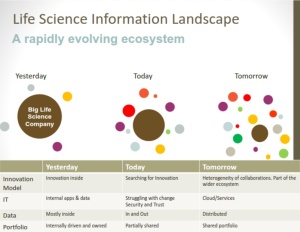 Life Science is changing rapidly with the number of collaborations and their importance increasing. This means that more research is done as part of collaborations with all the data challenges that imposes.
Our Goal
We want to develop strong partnerships with organisation to help support their growth and success. We have key experience of working virtually in projects (IMI OpenPhacts, Framework 7, Transmart Foundation) and in founding and growing organisations such as Pistoia Alliance.
Companies we are supporting
We are already working with a range of companies and have Project examples available but here is a selection of the companies we support:
Emerging Virtual Research groups and Biotechs

guidance on data management approaches
what tool kit to use at different points of their growth curve and expansion

Mid size and Larger Pharma

Externalisation and collaboration approaches and best practice
Pre-clinical informatics strategy in data management
Development of business rules to support better data management

Informatics companies

analysis to enable effective response to the changing market and industry pressures within Life Science and Health
strategic support incl RFPs and projects
independent customer questionnaires and interviews
competitor analysis and marketplace comparison

CROs

data management strategy
Support for what  Pharma customers expect from a CRO in terms of informatics and data management capability
Longer term approach to informatics and adding value to the services offered
We look forward to helping you with your informatics strategy & please get in touch